Work can involve mental stress, but have you considered the stress it takes on the body? Believe it or not, having an office job can take its toll too. Having the right office ergonomic products helps combat pain.
What are Office Ergonomic Products About?
Sitting for long periods in the same position can cause all kinds of chronic issues. We're designed to move around to keep our hearts and organs functioning properly. Bad posture, repeated movements, and awkward wrist/hand positions can cause Musculoskeletal disorder. This can affect your muscles, joints, tendons, ligaments, and nerves. Adapting your environment and implementing the right office ergonomic products can combat this.
You can reduce pain and discomfort, boost productivity and overall quality of work. Employers will reduce costs with fewer injuries and compensation claims, and absenteeism. Most importantly, you could save yourself from long-term health issues.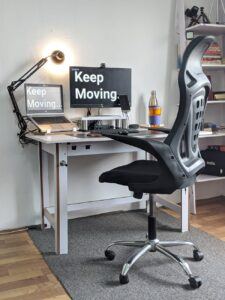 Safety Risks – What can Ergonomics Reduce?
Fatigue
Trip hazards
Eyestrain
Headaches
Sore neck, back, hands, wrists, arms, legs, and feet
… and just think of the money you'll save on massage therapy!
This post contains affiliate links, meaning, at no additional cost to you, I may receive a commission through purchases made. This keeps the site up and running. Click here to read more of the affiliate disclosure.
Top 10 Office Ergonomic Products
Here, we've put together a list of ergonomic products to improve your comfort and wellbeing.
Best Place to Buy: Amazon.com
Price: $16.43*
Size: 17.4 x 9.3 x 2.5 inches, weight 10.4 ounces
*price may be subject to change.
Prevents straining the hands, wrists, elbows, and shoulders.
Save your wrists from strain and the risk of Carpal Tunnel syndrome. This product provides great support to your hands and wrists while typing and using your mouse.
It's padded with soft memory foam to add to your comfort. The base is made of non-skid rubber to prevent any sliding movements.
The keyboard wrist pad improves posture and takes the pressure off your elbows and shoulders. Instead of slumped on a desk, your hands are cushioned and raised. The mouse pad is size large and supports the base of your hand.
Key Features:
Lightweight and portable
Keeps your hands level rather than in an upward position
Keyboard wrist pad fits most computers, notebooks, or mouse
Pads designed with grooves to fit your hands securely
Non-skid rubber base
Ideal for long hours of use

Best Place to Buy: Amazon.com
Price: $18.97*
Size: 17.3 x 11.5 x 4.9 inches, weight 13.3 ounces
*price may be subject to change.
****TEMPORARILY UNAVAILABLE****
Relieves sore feet and legs and prevents backache.
This design is simple yet highly effective. Resting your feet reduces soreness in your soles, ankles, legs, back, right up to your neck. And it improves your overall blood circulation.
This footrest has velvet material with massage beads that prevent slipping. The cushion is made of 30D high-density sponge that doesn't sink.
Having a footrest can make you feel more comfortable in the office environment. It also promotes relaxation in the home.
This footrest boasts versatility – you can also take it on long trips by bus, rail, or plane. Use it to rest your feet sitting up; prop your feet lying down; support under the knees lying down. You can even turn it upside-down and it becomes a rocker.
Key Features:
Lightweight and portable
Can use on the feet, legs, or lap
Made of high-density sponge
Non-slip on any surface, floor, or carpet
Removable cover, easy to clean
Comfortable design, not too high or too short

Best Place to Buy: Amazon.com
Price: $9.99*
Size: 4.3 x 3 x 1.9 inches, weight 2.4 ounces
*price may be subject to change.
****TEMPORARILY UNAVAILABLE****
Prevents straining the hand, wrist, and arm.
This Wireless Mouse is an excellent choice for ergonomic and practical use.
It's symmetrically designed to keep your hand comfortable after hours of use. Its height and shape fit either palm snugly. It's made with super-soft rubber padding on either side, so your hand experiences a relaxing touch. It's also sweat-proof, anti-slip, and fingerprint resistant.
The 2.4G wireless technology gives you a stable transmission in distances up to 50 feet. It has a long battery life and goes into a power-saving mode if not used for over eight minutes.
It has a modern stylish look to compliment your device. The design includes a standard left/right button and scroll wheel. But it also has a page up/page down button and DPI Switch button. The DPI switch allows you to change the cursor speed, depending on your chosen activity.
This mouse works with most systems such as Windows, Mac, and fits PC, laptop, MacBook, and other devices.
Key Features:
Stylish design
Comfortable contoured shape
Adjustable DPI(2400/2000/1600/1200/800)
Wireless technology and works long distances
Prevents wrist strain
High performance

Best Place to Buy: Amazon.com
Price: *Starting from $17.99+
Size: Lens width 53mm.
*price may be subject to change.
Prevents digital eye strain.
One of the problems with modern technology is we're surrounded by blue light. These Gamma Ray glasses are equipped with anti-blue ray lenses to help protect your eyes.
If you do a lot of reading on your computer, tablet, or work under fluorescent lights then you'll want to consider these glasses.
Blue light is emitted from most digital screens and can cause harmful eye damage. Using these glasses will prevent strain, visual fatigue, and sensitivity to glare. The computer reading magnification depends on how far you are from the screen you are viewing.
The nylon frames are a stylish design, both durable and lightweight. They're also RX-compatible so you can fit the frame with your own prescription.
Key Features:
Non-polarized
Lightweight and portable
Nylon frame and amber-tinted lenses
UV400 protection and glare reduction

Best Place to Buy: Amazon.com
Price: * Starting from $119.98
Size: 27 x 19 x 8 inches, weight 18.45 pounds
*price may be subject to change.
Prevents backache, sore knees, shins, backside, and bad posture.
Put an end to hunching over your desk for endless hours. This ergonomic chair is specifically designed to improve your posture and comfort.
It's equipped with a nice comfortable seat that tilts at 90-degrees to keep your back upright. This distributes your weight evenly, keeping your spine aligned. It's also great for the abs!
The height is easily adjustable, and it supports up to 250 pounds. It also has wheels so you can move about the office or lock them in place.
The ergonomic kneeling chair will help you work productively for longer periods.
Key Features:
Angled three-inch cushion seat
4 lockable caster wheels
Strong metal base
Sleek black design
Height adjustable from 21 – 28 inches

Best Place to Buy: Amazon.com
Price:  $107.34*
Size: 30.5 x 28.2 x 48.2 inches, weight 16 pounds
*price may be subject to change.
Prevents aching arms, legs, neck and supports the spine.
This ergonomic swivel chair is perfect for office workers and gamers alike.
It's ergonomically friendly with molded padding throughout, including a cushioned headrest to support the neck. The high back supports the spine, the height is adjustable, and the arms can flip up and down for various positions.
The seat reclines and the chair swivels 360-degrees, reducing the risk of stretching wrong.
This type of heavy-duty chair is built to last. It's made with premium leather and mesh to keep it cool. Whether you're using it for intense sessions or long workdays, this chair provides luxury, comfort, and safety.
Key Features:
Stylish Design
Ergonomic adjustments
Flip-up arms
Tilt control
Lumbar support
Integrated headrest
Wheelbase

Best Place to Buy: Amazon.com
Price: $41.91*
Size: 17.3 x 13.1 x 5.8 inches, weight 2.55 pounds
*price may be subject to change.
Prevents back pain, sore loins, tailbone, fatigue, and improves posture.
Sit comfortably without pain or awkward posture. This lumbar support cushion set is a great addition to an existing chair. Made of soft memory foam, it's shaped to fit the curve of your body.
The back-support pillow has adjustable straps to keep it in place. The center is made of 3D ventilating mesh to prevent overheating.
The soft seat has a rubber base to prevent slipping. And it has a cutaway tailbone section to relieve pressure.
Unlike other products, this includes a pocket to store your phone and a built-in handle for easy carrying. You can use it on your office chair, car seat, airplane seat, and more. With this cushion set, you get both orthopedic support and great comfort.
Key Features:
Set of two pieces
Easily transportable
Relieves pressure on your spine, back discs, and tailbone
High-density premium memory foam
3D breathable mesh
Adjustable straps and phone storage

Best Place to Buy: Amazon.com
Price: $17.99*
Size: 9.3 x 6.7 x 2.9 inches, weight 8.8 pounds
*price may be subject to change.
Prevents aching forearms and elbows.
Why put up with cold hard plastic poking at your elbows? If you already have a chair that lacks padding, consider these armrest pads. Made of soft memory foam, they could be mistaken for pillows.
They relieve pressure from your arms up to your elbows. Sweat-free and made of Polyester, they are a simple solution to ergonomics and covering old surface damage.
The bottoms have an elastic opening for a secure fit. Just stretch them over your existing armrests and easily remove them to wash.
Key Features:
Professional upholstered look
One set of left and right pieces
5-inch thick padding
Pads stretch around most factory chairs (6 – 11 inches long, 5 inches wide)
Memory foam molds your arm to relieve pressure points
Easy to use (elastic and zip)
Cheaper than buying a new chair

Best Place to Buy: Amazon.com
Price: $39.99*
Size: 17.5 x 26 x 7.2 inches, weight 2.45 pounds
*price may be subject to change.
****TEMPORARILY UNAVAILABLE****
Prevents eye strain and fatigue.
Get the latest in lighting with this sleek affordable smart lamp. It's touch-sensitive, having no need for switches.
This particular light is a great aid for your eyes. You can customise the illumination with 5 different colour modes and brightness levels (3000K – 6000K cct). So, you can easily adjust your lighting to different times of the day. And its memory function will store your preferred settings.
It's designed to reflect the light sideways to reduce glare. The flexible stand rotates 135-degrees, so you can adjust it to your environment. The LED light is flicker-free to protect your eyes and is energy-efficient.
Added for your convenience is a USB port so you can charge while you work. This stylish lamp ticks all the boxes and comes with a one-year warranty.
Key Features:
Touch-sensitive design
Elegant modern look
Energy-efficient LED
Memory function for your perfect settings
Built-in USB port
25 light modes with different brightness levels

Best Place to Buy: Amazon.com
Price: $49.99*
Size: 48 x 36 x 0.8 inches, weight 8 pounds
*price may be subject to change.
Prevents ankle and leg strain, and trip hazards.
You might wonder what's the point of a floor mat? Firstly, it provides ergonomic support with chair maneuverability. A chair catching on the carpet can cause unnecessary stretching/straining. Secondly, it can save your floor from chair damage and wear and tear.
This product boasts the thickest chair mat in the market. It measures 1/8 of an inch thick with a firm surface. The studded underside ensures a firm grip to hold the mat in place. It's designed so the wheels don't sink or leave indentations, and the corners stay flat.
This mat is 100% pure polycarbonate, free from volatile toxins. It has a transparent look, so it blends nicely with your floor.
Key Features:
Heavy duty
Guaranteed not to break, crack, scratch, or curl
Highly transparent
Secure grip backing
Environmentally friendly

Or check out the Avantree Laptop table → Use it as a portable stand-up desk and improve your posture! 


Your Wellbeing Matters!
Work is just as much about your health as it is about your productivity. It's important to work in a comfortable environment. Good ergonomics reduces pain and boosts morale, promoting a safety-conscious culture. With these premium products, you're investing in your well-being.