Ditch the bland and discover deliciousness with these 30 easy vegetable recipes.
Veggies … Ugh, Do I Have to?!
We hear you! Your face twists in a cringe at the mere thought of eating bland healthy greens all day. Life is too short not to enjoy your food, right?
Thing is, life doesn't have to be short if you introduce regular vegetables and fruits into your diet. Nor does it have to be unpleasant. Here, you will find 30 easy vegetable recipes that are creative and super tasty.
Don't limit your imagination to a plain bowl of vegetables; think muffins, omelettes, noodles, kebabs and much more. You'd be surprised how good it is – vegetables can be tasty and pack a powerful punch into your day!
Increase Fibre Intake Benefits
Vegetables contain many vitamins and minerals that make you feel better. Benefits include:
weight loss aid
energy booster
shinier hair and fewer split ends
clearer, healthier skin
firmer nails
prevents tooth decay and is a natural stain remover
helps with breath issues
improves organ function
reduces insulin sensitivity
prevents conditions like irritable bowel syndrome
reduces the risk of cancer and chronic illness
improves overall productivity.
How Vegetables Help Weight Loss
One of the great things about vegetables, is they contain water and fibre that fill you up, making you less likely to visit the pantry on a regular basis. It is slow digesting, so you will feel fuller throughout the day. Being low on calories, you don't have to worry as much about portion sizes.
Eating vegetables will boost your energy, helping you achieve much more activity in your day. It lowers cholesterol and prevents inflammation, which contributes to you feeling better overall.
What is the Daily Requirement?
According to Australia Dietary Guidelines, the recommended daily intake of vegetables is:
Women (19-70+ years) = 5 serves
Men (19-50 years) = 6 servers per day
1 serve = approx. 75g or ½ cup
Or a cupped hand for approx. ½ cup cooked vegetables. A fist for a cup of raw vegetables. (As per Understanding Portion Sizes: health.qld.gov.au).
Get Creative – 30 Easy Vegetable Recipes
The thought of eating five cups of vegetables per day may feel like a boring chore, but it doesn't have to be! There are many recipes that combine vegetables, fruit, and even protein to keep things interesting. Here are some great ideas to help you increase fibre intake and still enjoy your meals.
1. Vegetable Pita Bread Pizza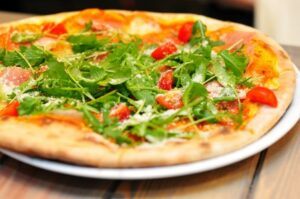 Who says you must give up pizza? Throw some vegetables, cheese, and sauce on a slice of Pita bread and you have a delicious snack. What a great way to enjoy your veggies, and super fast to make.
Recipe suggestion: Quick Veggie Pita Pizzas – acouplecooks.com
2. Cauliflower rice
This is a nice low-carb dish to increase your fibre intake. Serve it with a casserole or stir fry.
Recipe suggestion: Cauliflower Fried Rice – ifoodreal.com
3. Veggie Eggs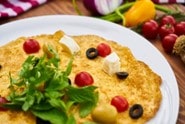 Mixing your vegetables with eggs is a fantastic way to keep food interesting. Dice up your preferred veggies and mix them with scrambled eggs, wrap them in an omelette, or make egg muffins.
Recipe suggestion: Vegetable Omelette – brooklynfarmgirl.com
4. Nuggets
With broccoli, carrots, garlic, eggs, onion, cheese, and breadcrumbs, you can make veggie nuggets. Crunchy and delicious! Mix it up and add protein too if you want.
Recipe suggestion: Veggie Nuggets – realmomnutrition.com
5. Smoothies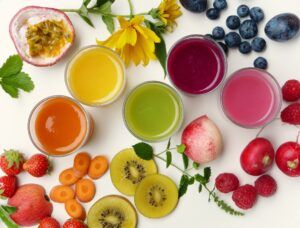 This is one of the fastest ways to increase your daily vegetable intake. Combine a full range of nutritious goodness into one drink. Add fruit with your veggies and you've got yourself a delicious drink, perfect for people on the go.
Recipe suggestion: Veggie Smoothies – choosingchia.com
6. Stuffed Celery Sticks
Grab celery sticks and fill them with cream cheese or curried egg, ham, or a creamy chicken mix. Simple and tasty!
Recipe suggestions: Stuffed Celery – www.thecountrycook.net
7. Burger Patties
Next time you're making meat patties, add diced vegetables into the mix. Your burger patties can include onion, carrot, zucchini, celery, spinach, and any other vegetable you want. Or you can try complete vegetable patties.
Recipe suggestion: Veggie Packed Beef Burgers – www.kidspot.com.au
8. Vegetable Muffins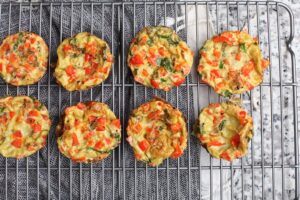 This can be a tasty treat for morning or afternoon tea or breakfast on the run. It is also a great addition to the kid's lunch box. With these savoury muffins, you can add whatever vegetables you like.
Recipe suggestion: Vegetable Savoury Muffins – healthylittlefoodies.com
9. Ham and Veggie Bites
Looking for a simple snack? Wrap some ham around asparagus or carrot sticks. This makes a good appetizer or something to go on the side of your sandwich at lunch.
Recipe suggestion: Parmigiano Prosciutto Wrapped Asparagus – fifteenspatulas.com
10. Crumbed cauliflower
Do you love cauliflower? Baked crumbed cauliflower with dip makes a great snack or party appetizer.
Recipe suggestion: Low Carb Golden Crumbed Cauliflower – ketodietapp.com
11. Vegetable Pastries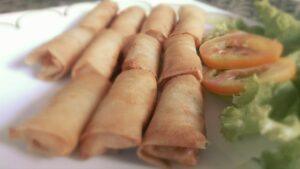 Dice up some vegetables or make a puree and wrap it in pastry. You can make delicious veggie puffs, pastries, and spring rolls.
Recipe suggestion: Vegetable Puffs – greatbritishchefs.com
12. Zucchini Lasagne
Try replacing pasta sheets with zucchini the next time you make a lasagne, or add it to your pasta. You can even add diced mushrooms and other veggies to your tomato sauce such as onion, carrots, celery etc.
Recipe suggestion: Easy Zucchini Lasagne – asimplepalate.com
13. Vegetable Fritters & Pancakes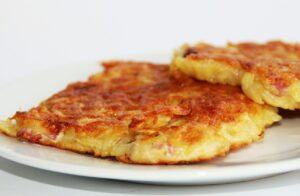 Put together some shredded veggies, egg, and flour to make crispy fritters. Or grab some frozen mixed vegetables and make fluffy pancakes. Both are fast to make and go well with sour cream.
Recipe suggestions: Crispy Vegetable Fritters – justataste.com
14. Garlic Roasted Beans and Mushroom
Try green beans and mushrooms roasted in garlic. It makes a super side dish with dinner.
Recipe suggestion: garlic roasted beans and mushrooms – chasingvibrance.com
15. Stuffed Zucchini Boats
Slice a zucchini in half and fill it with a nice saucy mixture of protein or whatever you like. Add melted cheese and you are in for a treat.
Recipe suggestion: Zucchini Boats – dinneratthezoo.com
16. Creamy Soups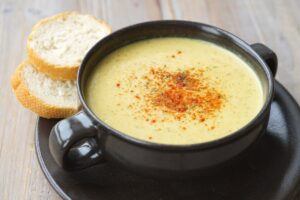 Soup is another simple way to get a lot of vegetables in one serving. Blend it all together and use some extra ingredients to make it nice and creamy.
Recipe suggestion: Creamy Vegetable Soup – recipetineats.com
17. Vegetable Wraps
Wraps are a quick and easy way to add more fibre to your diet. You can make breakfast wraps with vegetables, eggs, and bacon. Lunch wraps with vegetables, chicken, and dressing. Or lettuce wraps, using a lettuce leaf as the shell with a delicious mince or rice filling.
Recipe suggestions: Ultimate Veggie Wrap – culinaryhill.com
18. Quiche
Quiche is another way to sneak in more veggies. Get creative and try different vegetables for a variety of flavours.
Recipe suggestion: Quiche Bites – kingarthurbaking.com
19. Vegetable Chips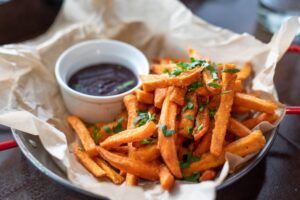 You can make chips out of so many vegetables: sweet potato, carrots, kale, radishes, avocado, and crispy beans. Get creative and try them all.
Recipe suggestion: Veggie Chips – nutritionrefined.com
20. Vegetable Noodles
Instead of using normal noodles, try something different. You can make noodles out of carrots, cucumber, butternut squash, and more. Mix it with a nice bolognese sauce and you might not notice the difference.
Recipe suggestion: Veggie Noodles – loveandlemons.com
21. Vegetable Sticks with Dip
Make interesting snacks, slice some carrots and celery, and serve with a nice dip. You could use hummus, yoghurt, avocado dip, pepper, or salsa.
22. Vegetable Kebabs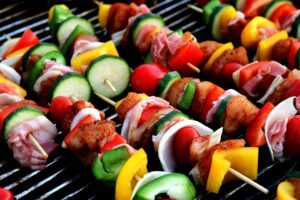 There is nothing like a smoky BBQ flavour! Place your favourite veggies on a skewer, add some protein if you want, and head for the grill. Use marinades and spices for extra flavour.
Recipe suggestion: Easy Grilled Veggie Skewers – www.theforkedspoon.com
23. Steamed Vegetable Dumplings
A mixture of beans, coleslaw, soy sauce and dough, can make a super delicious snack. Vegetable dumplings make a great addition to your lunch box.
Recipe suggestion: Easy Steamed Vegetable Dumplings – tablespoon.com
24. Vegetable Bake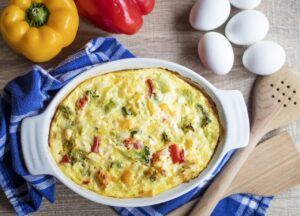 This can uplift a simple dinner. Throw a heap of vegetables into a casserole dish with a creamy sauce and some cheese and let the oven do the work! If you have any leftovers you can use them as a pastry filling too.
Recipe suggestion: Best Vegetable Bake – bestrecipes.com.au
25. Carrot Bread
Try something sweet and moist with carrot bread. You can enjoy them fresh or freeze them for future lunch boxes.
Recipe suggestion: Homemade Carrot Bread – spendwithpennies.com
26. Beetroot Cutlets
These are high in fibre and nutrients and make a unique snack. Roasted in breadcrumbs, they have a delicious crunch!
Recipe Suggestion: Beetroot Cutlets – mrishtanna.com
27. Stuffed Capsicum (Bell Peppers)
Stuff a capsicum with a creamy vegetable mix, some mince, or rice. There is an entire range of fillings you could use. You can do similar using a large mushroom too.
Recipe suggestion: Stuffed Capsicum – taste.com.au
28. Vegetable Roll-ups
These make a great snack or party appetizer, using fresh tortillas and vegetables of your choice. Have it fresh or baked.
Recipe suggestion: Veggie Roll Up – hoosierhomemade.com
29. Vegetable Sushi Rolls
This traditional Japanese dish is packed with flavour and nutrition. There are many different types of Sushi rolls you can make that are vegetarian and vegan-friendly.
Recipe suggestion: Vegetable Sushi – aubreyskitchen.com
30. Veggie Balls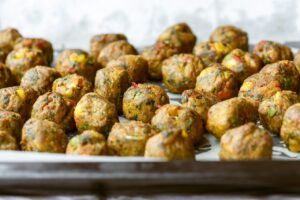 Make vegetable balls by frying a mixture of your favourite veggies. These can be used as a snack on their own, as patties or as meatball substitutes.
Recipe Suggestion: Veggie Balls – yummykitchentv.com
Other Suggestions to Increase Fibre Intake
Increase the number of vegetables in your stews by 15%.
Try Avocado & spinach on toast.
Dice vegetables into your sauces.
Make pickled vegetables.
Add diced vegetables to your salad with a nice dressing.
Have a bowl of your favourite vegetables for a mid-morning snack.
Sneak some vegetables into your grilled cheese sandwiches or try a Cauliflower Crust Grilled Cheese.
TIP: Steamed vegetables are better than roasted ones as they hold more nutrition.
What to be Wary of
Learn to read product labels and nutrition information. Just because a product has a picture of fruit or vegetables on it, it does not mean you are getting all the nutrients. Any food that goes through the processing system (any food in a packet or can) loses most of its nutrients and often contains a lot of hidden sugar.
Increase Your Fibre Intake and Boost Your Energy!
Let's face it, life gets hectic, and we need all the energy we can get! Increasing vegetables in the diet will increase your energy, improve digestion, and help with weight loss.
Discover here how superfoods can boost your performance. Vegetables don't have to be boring! Get creative with these easy vegetable recipes and enjoy the benefits of a balanced diet.
Do you have any favourite ways of sneaking veggies into your snacks?