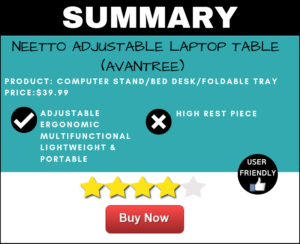 In today's world, quality and flexibility are paramount. It's not only expected of us, but we expect it of the products we buy. That's why the Avantree Adjustable Laptop Table is such a good investment. It has a multi-purpose design, caters for flexible work conditions and promotes good health.
Avantree Adjustable Laptop Table – Why This Product?
This post contains affiliate links, which means I may receive a small commission through purchases made. This is at no extra cost to you; it simply keeps the site up & running. Click here to read more in the affiliate disclosure.
Quality meets comfort with the Neetto Adjustable Laptop Table. Produced by Avantree, this laptop table is relatively sturdy and provides many benefits:
Highly Versatile
What's great about this product is it's multi-functional. You can use it as a standing table, or a desk on the floor, couch or bed.
It's wide enough to fit your laptop and a mouse, or you can use it for your tablet/iPad to watch movies. With its adjustable legs and tilting capacity, you can even use it as a bookstand. It also makes a handy snack tray and kids dinner tray.

Lightweight and portable
This table is made of 100% high quality engineered wood, yet light enough to carry. It easily folds up so you can take it to different locations. This is great for the independent worker or work-from-home mums, and it's convenient to take travelling with the family. It also makes for easy storage when you're not using it.
Ergonomic
Too often we neglect ourselves when it comes to health. What I love most about this product is its ergonomic use. It's designed for comfort and efficiency in the work environment.
You can use it with a regular desk, allowing you to stand while you work. This promotes blood flow and prevents backache, neck and shoulder pain. You can even burn more calories standing! Or use it in a variety of positions to encourage movement.
Related post: Top 10 Office Ergonomic Products for your safety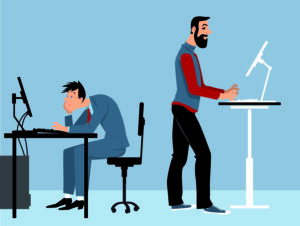 Because of its lightweight design, you can use it outdoors. Exposure to sunlight improves your health. It increases a hormone called Serotonin, which boosts moods and keeps you calm and focused. Vitamin D also improves brain functionality.
As Amazon's Choice, this product has become a worldwide bestseller. It's received a lot of positive feedback with thousands of reviews.

Who is it For?
Being a multi-functional workstation, this product is suitable for everyone.
Office workers can use it for a standing desk.
Freelance workers/Entrepreneurs can use it while travelling and visiting offices.
Writers can use it while they're out looking for inspiration.
Couples can use it to spoil each other with breakfast in bed.
Kids can use it for snacks or play (drawing and colouring in).
Families and friends can take it on picnics.
Everyone can use it as a food tray, book/device stand.
As the online world expands, freelance work is becoming more in demand. Having a portable workstation is highly convenient.
Design
The Avantree Adjustable Laptop Table is easy to use. It has adjustable legs, allowing you to change the height from 9.4-inches to 12.6-inches. There are two auto-lock buttons on each side to keep it in place. The leg distance is about 19 inches to fit over a person's lap.
The surface is a good fit for a 17-inch laptop or smaller. You can adjust the surface angle to suit your needs. The tabletop can tilt using a lock button when you've got your required angle. This makes the table adaptable to whatever surface you're working on.
It also has plastic covers on the leg stands to prevent scratching any surface it sits on. It can hold up to 40 kg in weight, and it's super-easy to assemble.
The oak tabletop comes in two colours: Honeydew and American Cherry. Sizes medium and large.

Overview
Pros
Great quality at a reasonable price
Simple, adjustable design
Multipurpose
Ergonomic
Lightweight
Foldaway and portable
Suitable for anyone
A cheaper option than buying a full standing desk.
Cons
The hand rest piece may be a little high
It can be slightly wobbly on soft surfaces (like a bed). However, making it sturdier would compromise the product's lightweight. The main purpose is to be portable.
Looking for Something Bigger?
If you're in need of a standing table that fits a desktop PC, then Amazon offers great deals such as the Airlift 36-inch Standing Desk Converter Workstation.
Invest in Convenience!
The main purpose of this laptop table is to make your life easier. Its high rate of customer satisfaction supports this.
For me, it offered great convenience and comfort. I found my productivity improved with the flexibility to move around and change my working environments. I love being able to work on my porch, soaking up the sun. I also enjoy it for reading my tablet in bed.
The size, quality material and ergonomic design make it a great choice at a reasonable price. It is a versatile yet simple product you can't go past.