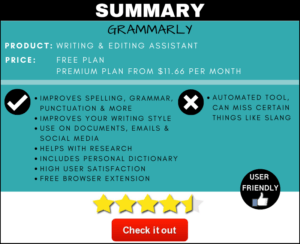 What is Grammarly?
Grammarly is a free writing assistant that you can add to browser extensions, or download a Desktop app. It automatically detects issues like grammar, spelling, and punctuation mistakes in your writing.
Whether you're writing a document, email, or social media post, Grammarly can assist you. It's even possible to add to Microsoft Office.
The software was released in July 2009 in San Francisco and is now used by over 20-million people. What makes this writing tool stand out, is that it's more than a grammar aid. It helps with writing style and tone, wordiness, vocabulary enhancement, contextual issues, plagiarism checks, and more.
Grammarly offers advice for casual writing, business writing, creative writing, technical writing, academic writing, and general writing. With this software, you can confidently write and post online knowing your work is clear and mistake-free.
Features
Grammar, spelling & punctuation checks
Grammar rule explanations
Performance statistics
Vocabulary suggestions
Word definitions
Detects style and tones
Easy-to-use extensions and apps
Can integrate with Microsoft Office
Plagiarism checker
Personal dictionary
Checks repetitive words
Checks weak adjectives
Checks wordiness & readability
Can use on various devices
Goal setting for relevant suggestions
Can choose America, British, Australian or Canadian spelling
Updated with some slang and word abbreviations

How to Use Grammarly
Once you sign up for a free account, you can start using Grammarly within minutes. The software is extremely user-friendly and readily available.
As you write (e.g. online post or blog) Grammarly will mark any errors in red. You can correct them with just one click of your mouse. You're also given the option to add any words to your personal dictionary.
It can indicate the tone of your text, provide performance stats, and more.
Who is it For?
Grammarly is ideal for work, academic, and personal use. Suitable for business workers, writers, bloggers, students, teachers, freelancers, marketers, and more. Everyone can benefit from using Grammarly.
Does it Cost?
Grammarly offers a free plan and a premium plan.
Free Plan
This plan is a fantastic way to familiarise yourself with the software. You get a free browser extension and an online text editor you can use with email, Messenger, Facebook, Twitter, LinkedIn, Tumblr, blogs, and more.
Grammarly will check grammar, spelling, conciseness, clarity, tone, performance and provide you with a personal dictionary to add words to. You can choose to view definitions and synonyms on any particular word.
You can also set goals so Grammarly can make helpful suggestions (e.g. what target audience you're writing for, the style, emotion, and intent of your writing, etc).
You will have access to Grammarly's Facebook and Twitter community, an online grammar handbook, and Grammarly blogs for daily tips.

Premium Plan
A premium plan will give you access to all of Grammarly's functions. The pricing is affordable and offers super value for the services you receive.
It provides the same as the free plan plus it runs over 400 checks, including sentence structures and advanced punctuation. It helps with source citation for research papers and detects plagiarism (checks over 16 billion web pages).
It can adapt to different writing genres and provide weekly statistics. You can also integrate it with Microsoft Word and Outlook. Here is a full list of the premium plan's inclusions: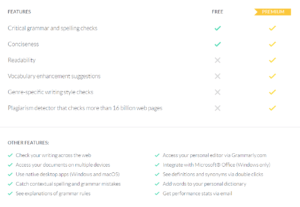 Grammarly statistics indicate that premium users correct twice as many mistakes, see improved writing grades and find writing more enjoyable.
Premium pricing:
And there's a Grammarly Business option to cater to entire business teams. This includes monitoring tools, hundreds of checks and features, centralized billing, and 24/7 support. Visit Grammarly to find out more.
Grammarly Pros
User-Friendly
This software is accurate, reliable, and very simple to use. It checks errors in real-time, catching typos and spelling mistakes before you post or email. It's very easy to understand and operate.
Excellent Functions
Grammarly has many great functions, including 400+ checks, language preferences, essay assistance, and more. It can also identify words used in the wrong context (e.g. whether/weather) which makes a significant difference.
Using all these functions will give you the best chance of producing work to the highest standard.
Customisation
With Grammarly you can choose which websites you want to use it on; set your language preference and more.
If you often use brand names/words/slang that Grammarly doesn't recognize, you can 'Add to Dictionary'. This prevents Grammarly from constantly highlighting it as an error.
Improves Writing Skills
Grammarly is known to strengthen your writing. It provides plenty of insights, performance statistics and helps you learn common errors. It can assist with structure, tone, and intent, based on your goals.
Grammarly Cons
Still Testing on Google Docs
Grammarly is in the process of extending its services. It's currently beta-testing for Google Docs, so it doesn't include Grammarly Premium corrections. However, I can still use the editor to make immediate corrections without any problems.
Free Plan is Limited
If you need advanced editing tools, then you may find the free plan restrictive. Premium offers far more functions, including integration with Microsoft Office. The free plan is sufficient for people wanting day-to-day grammar checks.
Doesn't Pick up on Everything
Grammarly is an automated system, so it doesn't pick up on everything, i.e. certain slang and acronyms. You need to add them individually to your dictionary.
See What Customers are Saying…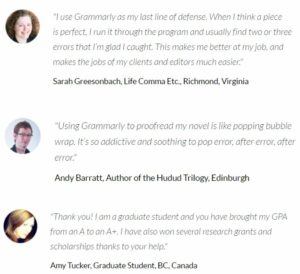 How do I Access it?
Firstly, you need to sign up for a free account. Then you get a browser extension for Chrome, Safari, Edge, or Firefox.
You can access the Chrome extension straight from the Grammarly site. Or go to your preferred store (e.g. Chrome Store), search  'Grammarly browser extension', and download.
To download the phone app, go to Play Store for Android, or the App Store for iOS devices.
Premium users can get instructions from Grammarly on how to add to Microsoft Word and Outlook.
Feedback and Support
If you're still unsure, rest assured that Grammarly has a support team available 24/7. Their goal is to respond to email support issues within eight hours.
They also have an extensive Help Centre and FAQ section for common issues and questions, and blogs with tips and advice. Or you can contact them via social media on Facebook, Instagram, Twitter, and LinkedIn.
Improve Your Work the Easy Way
Whether you're using Grammarly for work, personal or academic, it can vastly improve your writing and grammar skills. With over 20-million active users, Grammarly has a high customer satisfaction rate.
I've loved using this software (both free plan and premium) and highly recommend it.