Want to earn money for your passion? The internet is a great source for this, you can enjoy your hobby while gaining exposure to your talents! Here you can learn how to make money with stock photos. If you have a high-quality digital camera and a creative eye, then this could be for you.
Selling stock photos is ideal for professional photographers. And amateurs can do it too, with a little effort and some good software (like Adobe Lightroom). It won't make you rich, but you can certainly make money with stock photos.
*Note: The content must be your own original work.
What are Stock Photos?
Stock photos are images that the public can use by purchasing a certain license. They pay the artist and hosting agency (e.g. Shutterstock). The artist still has copyright, but the payee can use the photo in certain ways, according to the license.
Types of licenses:
Rights Managed – pay a licensing fee for an image based on usage (can pay extra for exclusive rights).
Royalty-Free – pay a one-time fee and the buyer can reuse the image without paying further royalties. The image can also be sold by the artist to many buyers.
Who Uses this Stock?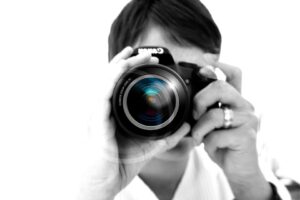 In this digital age, stock photos and footage are in high demand. They are used for all sorts of projects and platforms:
Social media
Web design
Blogs
Marketing
Presentations
Videos
Infographics and demonstrations
Printed material
Motivational quotes
General inspiration.
Make Money with Stock Photos – What's in Demand?
People in various poses and actions
Nature/seasons
Animals
Health and fitness
Transport
Technology/business
Culture
Food
Lifestyle.
For recognizable people in your photos, they should sign a model release. If you can't find models for your shoots, you can star yourself! Don't worry if you're shy, there's plenty of poses you can take without showing your face.
8 Best Websites to Make Money with Stock Photos
Here's a list of great websites to sell photography, illustrations, and footage clips.
Prices, terms, and conditions as of January 2019 (may be subject to change).
Using this, your content is sold on two sites: Adobe Stock, and Fotolia (which Adobe obtained in 2014). Adobe has an auto-keywording feature that lists top keywords to help you sell. You can upload images through various apps, which are moderated for approval. Buyers can preview Adobe stock and download from the Creative Cloud platform without opening a web browser.
Fees & Payment: 33-35% commission of image prices. Once you've attained $25 in royalties, you're paid via PayPal or Skrill. Information on payment and taxes can be viewed here.
Acceptable files: JPEG, 1600 x 2400 pixels. Vector files, 3000 x 5000 pixels.
Registration: Must be 18 years or over, ID required.
This American-based website boasts one of the world's largest platforms. It's run for over 15 years and paid out $500 million to date.
Share photos and get paid for every download. You can also earn money with their referral program. They have video workshops and blogs to help you. And there's a 'shot list' which highlights customer trends so you can plan your photography shoots.
Fees & Payment: Initially 25 cents for every download. This will increase as you make more money (also depending on the license and subscription of each download). Their earnings breakdown can be viewed here.
Payments are usually received by the middle of the month via PayPal, Payoneer, Skrill, or cheque. (It could take longer depending on your country and tax).
Acceptable files: JPEG and TIFF format, sRGB colour profile, at least 4 megapixels.
Registration: Available to anyone 18 years or older, ID required. You need to submit some content, which must be approved to activate your account. Contributors sign-up in a separate area to buyers: submit.shutterstock.com
Alamy has paid out over $190 million to date. You aren't locked into a contract and you can choose what you sell (though they require 45 days' notice to leave). They also have a live news team to which you can contribute newsworthy photos.
Fees & Payment: Prices vary but the average image license fee is $90, view details here­. If you sell your photos exclusively with Alamy you'll get 50% of sales. For non-exclusive photos, you get 40%. Payment is made every month via PayPal, Skrill, or bank transfer, provided your balance is over $50. You can be paid in UK pounds, US dollars or Euros.
Acceptable files: Use a DSLR camera or equivalent (mobile phones won't pass). JPEGS at 100%, file size 17MB uncompressed.
Registration: Age restriction unknown. Fill out an online form, images must pass moderation checks for approval.
4. ISTOCK (BY GETTY IMAGES)
iStock (iStockphoto) has been running for nearly 20 years. They sit under the umbrella of Getty Images Inc. the same as gettyimages.com. When you apply, editors will decide where your work is placed for the best exposure. Often iStock photos are shown on gettyimages.com as well. You'll get paid every time someone licenses your content from either site.
Fees & Payment: Photo royalties start from 15%, videos and illustrations are 20%. Exclusive contributors can earn more. Royalties on gettimages.com start from 20%. Payment's in US dollars via Payoneer or PayPal.
Acceptable files: 3 GB JPEG files for photos and illustrations. 3 GB .MOV files for videos.
Register: Available to anyone 18 years or older, ID required. Fill out an online application (may take 30 days to process) and submit photo samples.
Dreamstime has been running since 2010 and they have a good reputation for high-quality digital photos. You can upload photos, illustrations, or videos. They offer upload support, keyword assistance, blogs, and message boards with other artists.
Fees & Payment: Exclusive royalties are 60%, non-exclusive royalties are between 25-50% per sale. Payment via PayPal, Payoneer, Skrill, or bank cheque, once you have a balance of $100. Click here to view more.
Acceptable files: JPEG, RGB, and sRGB colour profile. Minimum size of 3 megapixels, maximum 70. There is a limit to the number of files you can upload per week.
Register: Free to sign-up. Must be 18 years or older and submit sample photos.
With this site, you can sell your Instagram photos as stock images. Photos can be used for commercial or editorial purposes. They can be non-exclusive and published elsewhere as well.
Fees & Payment: You can earn a 20% commission per photo sold or win a cash prize from challenges or do commissioned work (100% earnings). Payouts are calculated monthly, paid via PayPal.
Acceptable files: High resolution, 2800x2100px, not overly edited. They don't accept files that show company branding, visual artworks, or identifiable property.
Register: Free to sign-up, must be 18 years or older (or at least 13 years with guardian supervision). Your photos need to be approved by moderators.
Etsy is a platform that sells everything, including photography. This site is about setting up your own shop to sell images. If you don't have much, you can set up stores with other artists and combine your products. Customers can make custom orders, which they arrange directly with the artist. Etsy offers lots of support with selling tips, handbooks, newsletters and forums.
Fees & Payment: Etsy does charge listing and transaction fees, view details here. Payment made via PayPal, Etsy Payments, or cheque/money order.
Acceptable files: JPEG, GIF or PNG, at least 1500 pixels wide, sRGB colour profile.
Register: Apply online and follow the steps to create a shop. Must be 18 years or older (or at least 13 years with guardian supervision).
Stocksy (or Stocksy United) has a reputation of quality over quantity. It is a co-operative, part-owned by contributing artists. It was developed in 2013 by the original owner of iStockphoto, Bruce Livingstone. It's said to have a great community and support.
Fees & Payment: Stocksy pays high royalties, 50% standard license purchase, 75% extended license purchase. Image prices range from $10-$100 USD.
Acceptable files: High-resolution digital files, polaroid scans, and mobile images. Minimum 6 megapixels. No logos or company branding.  They only accept high quality.
Register:  Stocksy is currently calling for new artists. Apply online and send samples. Every image is individually reviewed by a team of moderators. Must be 18 years or older.
Other Mentions:
 SmugMug – a service where professional photographers can create a web portfolio, upload photos, and send to clients to order prints. It's a subscription service with a 2-week free trial.
CanStockPhoto – you can earn 20% – 50% royalties, paid via PayPal once you have a balance of $50 USD. Their payout schedule can be viewed here.  Files need to be a minimum of 3 MP, 2000 x 1500 pixels. Apply online free and submit 3 photos for fast review.
Extra Tips to Make Money with Stock Photos
Only use your best photos.
Check out the trends to see what sells the easiest.
Try a gimmick or something edgy.
You can also offer photography services via online freelance networks. Here is a list of the top 10 freelance platforms to find jobs.
Quality is Essential
Like most things online, there is a lot of competition on stock photo platforms. The key is to be creative and unique to stand out from the crowd.
What about you? Have you tried any other websites worth mentioning?